Nu Look Home Design Reviews
At Nu Look Home Design, we stand behind the quality of our work, and we're not satisfied unless you are. This is why you pay nothing until the job is done and done right.
We want you to feel absolutely confident that you've chosen the best home remodeling company for your property, which is why we have partnered with GuildQuality.com, an independent third-party company that follows up with homeowners who have used Nu Look for their home improvement projects.
We have served thousands of satisfied homeowners, but you don't have to take our word for it.
We invite you to take a look at our ratings and see what thousands of homeowners have to say about Nu Look. Get real insights from real Nu Look customers about all points of the Nu Look experience, from sales knowledge and quality of workmanship to installation and problem resolution.
Let's talk about your project
Like what you see? Join thousands of other satisfied homeowners in getting a new look for your property. Call today to discuss how Nu Look can completely change the way you see your home.
---
very prompt & efficient both the saleman and the workers who showed up right on time, were respective about their work and finished in an amazingly short time.
It all starts with the employees. Nu Look Home Design has done work on my home before. They do absolutely gorgeous work.
I felt everyone from the sales rep. to the installers we very helpful and made sure I was comfortable and had my questions answered throughout the entire process
We chose Nu Look for our windows because they did such a great job when we needed a new roof. They did not disappoint us. We are very pleased!
They were very helpful with getting everything accomplished with the insurance company. They were thorough and double-checked things with the project. They were contentious to make sure we could get out of the house safely without debris falling down.
Very friendly, professional and responsive service. Took care of everything with insurance company. Quick and clean installation.
Overall and from end-to-end, especially with Robert Kitchings, we had a superlative customer experience. Generally customer service across all sectors has, sadly, declined, but our work with NuLook was exceptional.
The team was very hardworking. The customer service was very good. My questions were answered. Everything went according to schedule.
Everything about our experience with Nu Look Home Design was excellent from beginning to end. They are terrific pros when it comes to project management.
The Nu Look team did a great job and the work looks amazing. The attention to detail, cleanliness of the work and the great warranty would have me recommend them to friends and family. I do plan on using them again in the future.
Andrew Cook was my agent, and he was excellent at describing the process of work that needed to be done.
Extremely Pleased with everything from from signing the initial agreement to the completion of the roof.
The entire process from working with the insurance adjuster to the actual installation was top notch!
Our experience with Nu Look was great from start to finish. They took care of everything. Low stress for us and timely calls, frequently answered questions, and great service.
Everything was really quick and well done. It was a high priority to get everything done like it should be.
I would certainly recommend Nu Look Home Design. It was a seamless operation from start to finish. The salesman did a great job with financing and the installation was wonderful.
Nu Look Home Design's service and quality are second to none. All you have to do is look at my house from a short distance to see how good it looks with its new siding, roof, and contrasting down spouts. I will definitely recommend them to my friends and neighbors.
From the start of interaction with the salesperson to completion was very painless and professional. It was a good experience.
Love the siding and front door! Excellent work and craftsmanship. Most importantly, the process from scheduling to installation to final payment was outstanding.
We had a GREAT EXPERIENCE with Nu Look Home Design!!!! They were the best price we got out of 3 or 4 companies and they were organized, dependable and on time with everything.
I am very pleased with our roof and gutter instillation and would certainly recommend Nu Look to anyone who is considering similar work on their home. The entire process was easy and the work exceeded my expectations.
I'm very pleased with the look, the suggestions made by the team at Nu Look, and the installation of everything, roof, gutters & skylight. Their follow-up on minor damage was great. They were here when they promised, and were focused on doing the job right. Thank you!
Professional job all the way! Personable sales people (Andrew and Stan), trustworthy workers who completed work beautifully and on time. Great clean up job! We're grateful for our new roof and look forward to the install of the solar panels.
Fromm the estimate to the work itself, to the clean-up, Nu Look's professional team answered our questions, efficiently installed the roof and the gutters, gave us every possible discount, and our new roof is beautiful! We would certainly recommend Nu Look in the future.
They were very professional all the way. Basically, the person working with me was very helpful technically and very responsive.
This entire process went far more smoothly than i anticipated. Staff is knowledgeable and communication, for the most part, is very good.
Nu Look completed the job, as agreed. No issues, no hassle.
We could not be more happier with our new roof! It totally transitioned the look of our home. The level of service from the first inquiry to the end of clean up was professional and efficient. Now our roof is the talk of the neighborhood for a good reason.
The team did a terrific job. They were quick, clean and responsive.
Good communication from the company throughout - very happy with the end result. The crew took care to keep our pool clean and at the end of the job, the surrounding of the house was cleaner than when they started. Overall, a great job for a fair price. Happy to recommend!
Nu Look delivered what they promised and then some. Very happy with the process.
Excellent work!! Informed on every step of the project
Nu Look is extremely professional and strives for excellence in everything they do.
They did a very professional job.
Everything was handled efficiently and professionally from the beginning to the end! Very impressed!
I had put off replacing the roof of my house for quite a while, mainly because I was unable to find a roofing contractor I felt fully confident about. That changed when I heard of Nu Look Home Design and learned about what they offered by attending one of their excellent online webinars. I immediately felt confident in NLHD's knowledge and professionalism. The job was completed on schedule and to my complete satisfaction. The cost may have been somewhat greater than had I gone with one of the other estimates but the quality of materials and workmanship delivered as well as the excellent communication throughout the project and consequent peace of mind I had made that worth it.
I engaged Nu Look to replace my siding and window trim and they did a great job. The finished product looks fantastic! I felt that I got a fair price as I contacted several companies for this project. Everyone was pleasant to deal with, from the salesman, to the project manager, to the workers. I would definitely recommend them.
The gentlemen that came were very competent, polite, and knowledgeable and the work was done beautifully.
Yes I would absolutely recommend Nulook. They did a fabulous job on our roof, siding and gutters. They were Always available if I had questions, and the job was completed quickly. Men did a great job cleaning up afterwards as well. Thank you!
Excellent roof installation. Job completed in a timely manor.
They did a good job. They did it all in one day and left the job site clean.
Roofing looks great. They did a great job.
The initial consult and following install were done very professionally. Everyone was very professional and easy to communicate with during the whole process. I will definitely tell everyone I know how satisfied with the entire process.
We have lived in our house for 2 years and have had enlisted home improvement help from several purveyors. Nu Look is hands down the most quality home improvement company we have worked with thus far. They communicate well. They are prompt, they deliver quality workmanship, have great product offerings & have been very open to our concerns & expectations.
It was a pleasure working with Nu Look Home Design. Their customer service was spot on and their response was very quick. Big thumbs up.
They were very prompt and professional.
They did a quick and professional job.
It was done quicker than expected.
I would recommend Nu Look Home Design to a friend because they made entire process so easy. No juggling dates, no lazy workers, the insurance restoration guy, Dillyn, was knowledgeable, friendly, and always answered my calls. It was just perfect and easy. Thank you Nu Look Home Design!
They were just awesome people to work with, very helpfu!
Dylan was the best. He handle the whole process and always kept me informed. The completed roof replacement was done in one day and they left everything clean. Great service.
Nu Look Home Design has done several projects for me in the passed and I am pleased. Not only are they timely but they clean up after the work is completed with the project.
Nu Look Home Design did an outstanding job!
I would highly recommend Nu Look. The entire experience was seamless.
Nu Look Home Design is a professional company in all aspects of the word. from the beginning of meeting w/Kyle to meeting with Ron and even Kathleen with regard to scheduling a date and time for installation, everything was right on schedule. The materials were delivered early on the morning of the date of installation and the installation went very well including cleanup. My wife and I are very satisfied and I have already recommended Kyle to a friend who needs a roof. I asked my neighbor who installed his roof 2 years ago and he gave me your contact info. My neighbor had nothing but good reports about NU Look then. There is nothing negative I can say about this company.
I was definitely pleased with how everything turned out, and I'm pleased with how thye resolved some of the issues that I saw after the work was done.
New Look Home Design was professional, had a great crew, did a great job and cleaned up well. I would recommend them to friends.
It was more than I expected. George and his team did a fantastic job. They are very professional and cleaned up after themselves. They did outstanding work for me; I really appreciate it.
I thought that the installation and the team was outstanding at Nu Look Home Design.
They are a great company. I enjoyed using them. I was real pleased with service.
They have done our roof, windows, and back door. That should speak for itself. We keep calling them for return projects.
Agent got to the heart of the matter, addressed my specific needs which made both of our lives easier.
Nu Look has done a fabulous job, I will recommend them for all of the work they did for me.
NLHD Get the Referral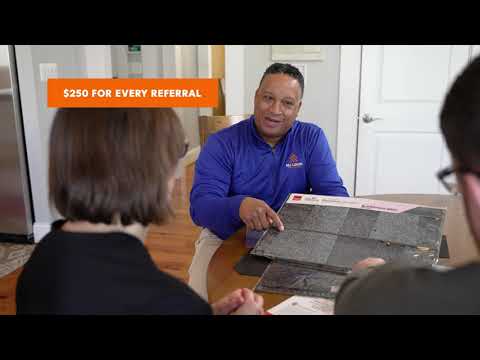 Play Video